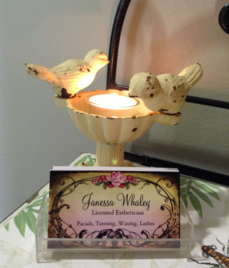 I am located at The Cottage in Thousand Oaks, a cozy and relaxing yellow cottage
surrounded by a white picket fence! I love what I do and love to offer great
treatments to my clients and friends, providing a comfortable and relaxing atmosphere. My treatments and specialized products will make you feel truly pampered!

I have been a Licensed Esthetician for over 17 years and specialize in Airbrush Tanning, Eyelash Perming, Brow Tinting, Lash Tinting, Facials, Skin Peels, and Body Peels.

I also offer Full Body Waxing including Brow Wax, Brow Shaping, Bikini, Playboy, Brazilian, Arm Wax, Leg Wax, Underarm Wax, Face Wax, Waxing for Men, and more!

Please feel free to contact me at any time with questions or comments.

​Janessa Whaley